OSFI Update Surrounding Stress Test
Date Posted: November 8, 2023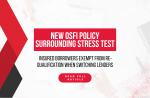 The recent OSFI report contained a surprising revelation in the mortgage industry. Insured borrowers are exempt from the re-application of the Minimum Qualifying Rate (MQR) when switching lenders at renewal. This exemption was previously not widely known and goes against the assumption that all insured mortgage switches required requalification under the mortgage stress test.
Canada Mortgage and Housing Corporation (CMHC) confirmed this policy, allowing the transfer of CMHC-insured loans to another lender under certain conditions. However, it's important to note that lenders may still choose to re-qualify borrowers at their discretion.
The mortgage stress test for default-insured mortgages was introduced by the Department of Finance in 2016. Borrowers must qualify at the higher of the MQR or two percentage points above their contract rate, whichever is higher.
A mortgage switch is when a borrower transfers their existing mortgage from one lender to another, either at or before renewal.
This exemption may lead to more lender options and increased competition, providing borrowers with choices. Lenders are likely to step in to offer these deals, potentially benefiting borrowers in a rising rate environment.
However, it's important to emphasize that thorough underwriting standards and risk assessments are still required for insured mortgage switches to prevent fraud or misrepresentation. The exemption does not eliminate the need for these precautions.
To find out if you're able to take advantage of this new policy - contact a broker today.