Open House - The Real Estate & Mortgage Show: November 20th 2023
Date Posted: November 20, 2023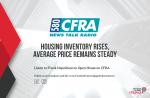 Bank of Canada has held rates since the end of summer and as rates remain high, it has put a slow on the housing market. Over the course of fall we have seen the housing inventory rise, and most people expected house prices to decrease as a result. However, house prices have not changed and are remaining around the same price as a few months ago.
Frank and Dory discuss trends and news in the housing and mortgage industry.
To listen to the latest full episode, click here.
Contact your Mortgage Broker today for trusted advice.