Mortgage Minute: Can You Afford to Buy a New House?
Date Posted: June 23, 2021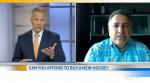 With new stress test rules, it may be more difficult in order to qualify for a mortgage. With the previous rate of 4.79% you may have qualified for a $500,000 but now with the current rate of 5.25% you would only qualify for a mortgage of $479,000.
With the new rules in place, we are seeing a relatively quick adjustment period for most. It is showing more restraint on younger Canadians and first-time home buyers as they are unable to qualify for as much of a mortgage. With the housing market, having less of a qualifying rate and housing prices being so high it is increasingly difficult for those group of Canadians. The market has been showing some of a cool off period but cannot be necessarily tied to the new stress test changes. With he housing prices lowering it is becoming easier to buy as houses are now going for closer to list price.
For more information, reach out to a Mortgage Broker today!
To watch the full CTV Morning Live segment with Frank Napolitano; click here.